Podiatric Residency Program
Each year, three residents are accepted in the Podiatric Residency Program at Aultman Alliance.
Our residents are able to fully participate at many of the hospitals in the Northeast Ohio area.
Program Break Down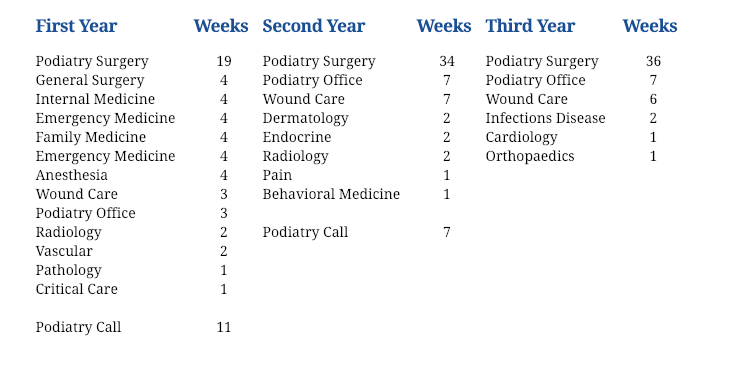 Resident benefits
Our residents will receive a competitive annual salary, retirement matching, malpractice insurance, National Boards fee coverage, yearly CME allowance, OPMA/APMA/ACFAS dues, reimbursement of gas mileage, meals and 21 days combined sick or vacation days.
Candidate requirements
A candidate must be a podiatric college graduate with a minimum 3.2 GPA, have a reliable personal vehicle, reside within 30 minutes of Aultman Alliance Community Hospital, and have passed National Boards (part I and II).
Meet the Director
David Bishop, D.P.M., directs the program. A native of Cuyahoga Falls, Ohio, Dr. Bishop spent six years in the U.S. Army with a combat deployment to Afghanistan before attending Kent State University for his undergraduate studies. Dr. Bishop graduated from the Kent State University College of Podiatric Medicine in 2017 and completed his residency at Aultman Alliance Community Hospital. Dr. Bishop takes the education of the residents very personally and enjoys watching their growth and development from the first day of residency to the last day before graduation.
If you are interested in the Podiatric Residency Program at Aultman Alliance Community Hospital and would like more information, please call one of the following telephone numbers:
Alliance Community Hospital: 330-596-6000 (have a podiatric resident paged)
Resident's Office: 330-596-7750
Dr. Bishop's Office: 330-821-6438