Jul 16, 2019
Alliance Fire Department Receives Important Donation from Aultman Alliance Community Hospital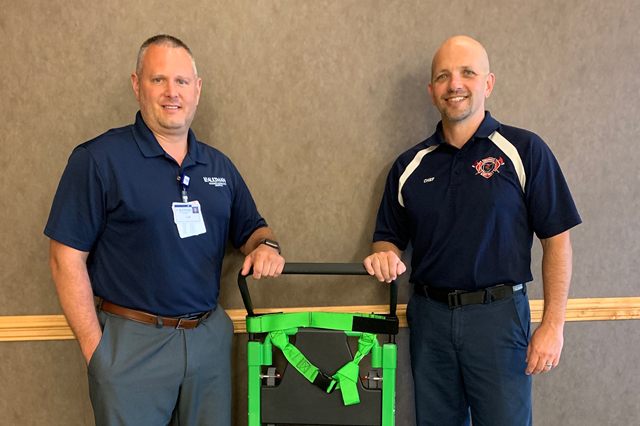 Members of the Alliance Fire Department were recently invited to Aultman Alliance Community Hospital to receive a special donation. The hospital donated a Stryker evacuation chair to the department for use by their newly instated EMS crew.
The Ohio Board of Transportation and Safety mandates that all emergency crews have access to this important piece of equipment. It must be readily available on all medical calls in order for EMS services to be provided by the Alliance Fire Department.
"The hospital was the recipient of several of these chairs through various donations and grant funding,"
explained Aultman Alliance Community Hospital EMS and Safety Coordinator Tom Coplin. "When we learned of the need the fire department was faced with, we knew we could help."
The evacuation chair will be used to safely and quickly extricate a patient up or down a flight of stairs, as necessary.
"Sometimes our team gets called out to assist in lifting or transporting a patient down a flight of stairs and moving these patients without the necessary equipment puts our department at risk of injury," said Alliance Fire Department Chief Jason Hunt. "We're so thankful to the hospital for providing us with this much-needed donation to keep our team, as well as the patients we serve, safe."