Jan 30, 2017
Aultman Alliance Community Hospital Adds to Orthopedic Group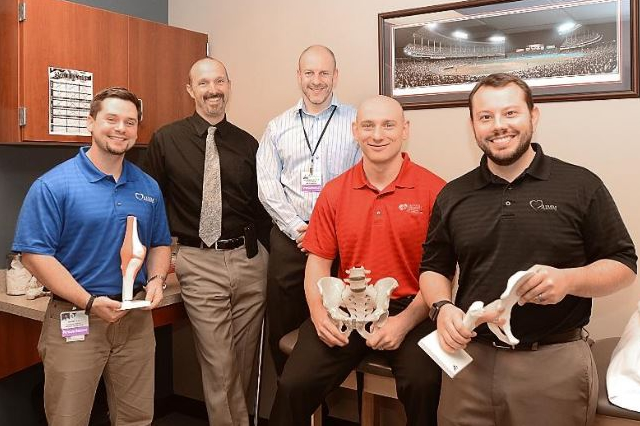 In 2016, Aultman Alliance Community Hospital strengthened its orthopedic group, adding two new orthopedic surgeons to the AMG Orthopedics and Sports Medicine -- giving it four in the specialty.
Though the orthopedic group began with only David Mungo, MD, it didn't take long for the practice to grow. By 2010, Dr. Mungo had recruited help in the form of Michael Necci, MD, to the practice they named AMG Orthopedics and Sports Medicine (formerly Alliance Institute of Musculoskeletal Medicine), followed by the addition of Chris Boatwright, a physician assistant.
"Dr. Ficco sort of fell into our lap," Mungo said, of the addition to the practice in October. Ficco, whose wife is from Homeworth, had called the hospital inquiring about a job as they wanted to move back to the area from Kansas. "We met him and fell in love with him immediately. He's like a cute little puppy dog," Mungo joked. "It was a great fit."
"He's getting busier faster than we ever anticipated and the practice just seems to be sort of growing exponentially," Mungo said.
Another addition was a second physician assistant, Brant Miller. Mungo said the PAs add the ability to see a higher volume of patients.
Mungo said the fact that AMG Orthopedics and Sports Medicine is staying busy and continuing to grow means they are doing a good job of retaining work here in Alliance, rather than seeing people leave town to find specialists. "We've built up a good reputation, and that's a credit to the hospital, to the hospital staff, to the new building and everybody in this office, that reputation that we're attracting and retaining a larger percentage of our population," he explained.
Mungo added they are also attracting people from other communities and he credited word of mouth and recommendations from their patients with much of their success.
In November, longtime Alliance orthopedic surgeon Roger Palutsis, MD, came on board as the fourth orthopedic doctor hoping to find that win-win formula.
Palutsis came to Alliance in 1992, choosing family and small town living over the big city life in Chicago and a job with the Chicago Bulls. "I came because my wife is from Alliance and her father was the first fellowship trained doctor at Alliance," he said. "I wanted to have more of a family life here."
He and Dr. Bautista formed the Carnation Clinic as the first-of-its-kind surgical specialty clinic. Although their partnership was cut short due to Bautista's death, Palutsis continued what they started together. "I think we brought a fair amount of doctors to Alliance," he said, naming Mungo and Kanagy as former partners.
Though fellow doctors have come and gone from the Carnation Clinic, one partnership has remained constant, as Palutsis has been the team doctor of the Mount Union Purple Raiders football team throughout its more than two decades. Palutsis said it is a community service he continues to enjoy.
He said despite being in a small town, he's been able to be innovative and be a part of a lot of firsts -- minimally invasive hips replacements, minimally invasive partial knee replacements, custom knees and 3-D printed implants.
"In no way do we act like a small town hospital in terms of the types of surgery that we do," he said.
Palutsis said he was at a crossroads in his career where he felt it necessary to make a major decision; retirement, leaving Alliance for opportunities out of state or joining AMG Orthopedics and Sports Medicine.
"Private practice nowadays is becoming a dinosaur; it's a lost entity in terms of how things are in the future of medicine," he explained. "Medicine has been driven so much by what the insurance companies are demanding. The only way you can prove performance is through data. Smaller groups and private practices do not have the ability to keep up."
When it came down to staying in Alliance or leaving for other opportunities, Palutsis said he wasn't ready to leave his patients or the city he has been practicing medicine in for more than two decades.
"I have really strong roots now (in Alliance). I'm no longer just a 3-year-old maple tree; I'm kind of rooted deep," he said. "I started my orthopedic career here and in a way I want to end my orthopedic career here. If I could work it out with the hospital in a way that was beneficial for both parties, then that's what I wanted to do."
Though the partnership is still new, Palutsis said joining the AMG Orthopedics and Sports Medicine allows him to slow down a little bit and do things he wants to do, such as attending his youngest daughter's high school swim meets. It also allows him to continue to see patients -- some now second or even third generation -- the way he wants. "I love my patients, I love my practice; that's who I didn't want to leave. I could start all over elsewhere, but I really love my practice," he said.
Palutsis said there is some uncertainly in health care, and he believes hospitals and physicians have to partner together for the quality of care, the demonstration of quality of care and the reimbursement of quality of care.
"I don't know what 2017's going to bring. I think there's so much change in the world of health care," he added. "But I think the hospital is well positioned for that because they have a high quality hospital."
Mungo also sees a lot of unknowns in the health care field and is unsure what 2017 and the election of a new presidential administration will bring.
"It's just nice to have a partner to do it with, and it's not just having the institution, it's having the people," Mungo said. "It's good to have the quality people at our hospital and the good working relationship we have with them to help navigate the future of health care."
AMG Orthopedics and Sports Medicine is located at 1900 South Union Ave., Suite 100. For more information on the practice, please call 330-596-6500.