Jun 7, 2017
Aultman Alliance Community Hospital Auxiliary Awards Five Scholarship Recipients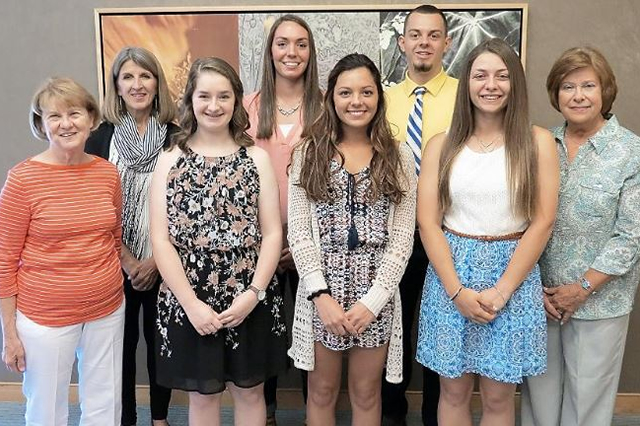 The Aultman Alliance Community Hospital Auxiliary recently held a reception to honor five area seniors. The Dr. James J. Thomas scholarship is awarded annually to four recipients who are interested in pursuing a health-related degree.
Scholarship chair Mary Lou Williams welcomed those in attendance and thanked her committee which included Joan Gecina, Eleanor Carver and Joan Thomas. Williams stated, "In 2017, we had 34 applicants to choose from; every year it becomes more difficult to select winners because the students are all so deserving and excel in various areas." She also thanked the ACH Auxiliary for their continuous fundraising efforts that make the four scholarships possible. Special guests in attendance at the ceremony included hospital CEO Stan Jonas.
In 2017, a fifth scholarship was also awarded in memory of longtime ACH nursing supervisor Nancy Freconna. Funds for the additional scholarship were established by the nursing staff of ACH along with the hospital Auxiliary. Savannah Miner, a graduate of Louisville High School, was awarded the scholarship. Savannah plans to attend the University of Mount Union in the fall to pursue a degree in nursing. ACH nursing supervisor Joan Thomas spoke about Feconna and her impact on nurses during her 40-year career at ACH and presented the award to Savannah.
Recipients of the four Auxiliary scholarships included Victoria Thompson, of Alliance High School, who will be attending Walsh University to study health sciences; Brandon Dare, a graduate of Sebring High School, who plans to attend the University of Mount Union to pursue a degree in physical therapy; Brianna Gassman, a graduate of Minerva High School, who plans to attend the University of Mount Union to also pursue a degree in physical therapy; and Alecia Vlaiku, a graduate of West Branch High School, who plans to attend Kent State University to become a veterinarian.
The Auxiliary Scholarship fund was created in 1987 to provide financial assistance to students interested in entering the health care field. The fund was named for the late Dr. James. J. Thomas, who was a former hospital anesthesiologist who upon retirement became a hospital volunteer. His generous donation funded the initial scholarships and has been added to over the years by the fundraising efforts of the ACH Auxiliary. In 2017, they will be giving more than $78,000 to Alliance Community Hospital to help with various services throughout the hospital.