Jun 10, 2019
Aultman Alliance Community Hospital Introduces New Prescription Medication Disposal Method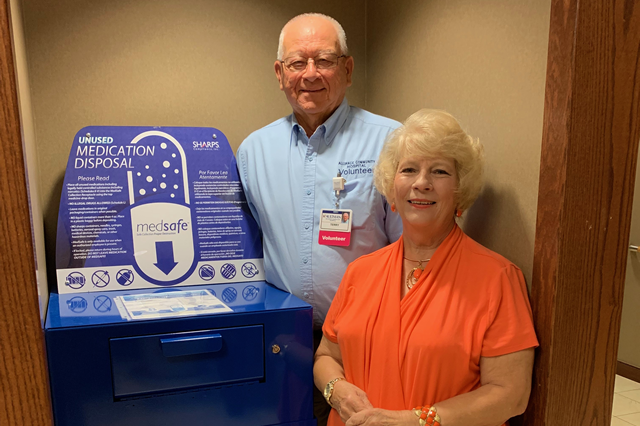 Aultman Alliance Community Hospital has partnered with Sharps Compliance to combat the growing epidemic of prescription drug abuse by providing solutions to safely dispose of opioid painkillers and other unused medications.
A MedSafe® drug collection and disposal receptacle is now located just outside of the emergency room entrance at Aultman Alliance. This specially designed receptacle allows for the safe and anonymous disposal of unused or expired medicines and controlled substances.
Most Americans recognize that prescription drug abuse is a growing problem and one that flourishes in all communities.
"We often receive questions from our patients and members of the community asking how they can safely get rid of their unused medications," said Director of Pharmacy Paul Witkowski. "Through a grant given to us by our hospital auxiliary, we're happy to be able to give back to our community by providing a safe solution to getting unused medications out of their homes and out of harm's way."
Simply bring your unused pills to Aultman Alliance Community Hospital and drop them into our Sharps Compliance MedSafe. Anyone wishing to dispose of unwanted medications is welcome to access the box Monday-Friday between the hours of 8 a.m. and 8 p.m., as well as Saturday and Sunday from 10 a.m.- 2 p.m. Please enter through the main lobby. A front desk representative will contact the pharmacy and they will assist in the disposal process.
Items accepted include prescription medications and all over-the-counter medications. If the medication is a liquid, the bottle must be no more than 4 oz. and not leaking. Illegal drugs, needles, syringes and inhalers cannot be accepted or deposited.
The MedSafe receptacles are securely installed and can only be accessed and emptied by two hospital employees as required by the DEA. MedSafe receptacles are located in retail pharmacies, long-term care facilities, hospitals and clinics with on-site pharmacies, law enforcement agencies, government agencies and narcotic treatment facilities.