Aug 15, 2019
Aultman Alliance Community Hospital Receives Mission: Lifeline GOLD Referring Achievement Award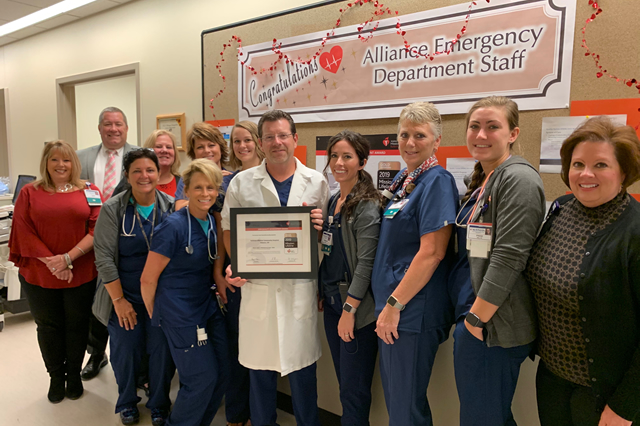 Aultman Alliance Community Hospital has received the Mission: Lifeline® Gold Referring Quality Achievement Award for implementing specific quality improvement measures outlined by the American Heart Association for the treatment of patients who suffer from severe heart attacks.
Every year, more than 250,000 people experience an ST elevation myocardial infarction (STEMI), the deadliest type of heart attack, caused by a blockage of blood flow to the heart that requires timely treatment. To prevent death, it's critical to restore blood flow as quickly as possible, either by mechanically opening the blocked vessel or by providing clot-busting medication.
The American Heart Association's Mission: Lifeline program's goal is to reduce system barriers to prompt treatment for heart attacks, beginning with the 9-1-1 call, to EMS transport and continuing through hospital treatment and discharge. The initiative provides tools, training and other resources to support heart attack care following protocols from the most recent evidence-based treatment guidelines.
Aultman Alliance Community Hospital earned the award by meeting specific criteria and standards of performance for promptly diagnosing STEMI patients and transferring them to hospitals that provide emergency procedures to re-establish blood flow to blocked arteries when needed.

Alexander Kuhn, senior director of quality and systems improvement, recently presented the award to the AACH Emergency Department staff. He commended the staff for their achievement, citing that the Alliance ED's consistency in treatment for heart attack care was key to winning the award.
"This achievement is not easily obtained - the Aultman Alliance Emergency Department is one of seven in the United States to receive this commendation and the only Emergency Department in the state of Ohio to receive this particular award," he said.
While onsite, Kuhn also presented Lorrie Durkin, director of the Aultman Heart Center at Alliance, with a special "challenge coin" as a token of gratitude and acknowledgement for her personal efforts in advancing the level of cardiac care in Alliance.
"Aultman Alliance Community Hospital is dedicated to providing exceptional care in a timely manner to heart attack patients," said Durkin. "It takes a great deal of effort from the entire team to ensure that this level of care is provided consistently."