Aug 20, 2019
Aultman Alliance Community Hospital Receives SANE Training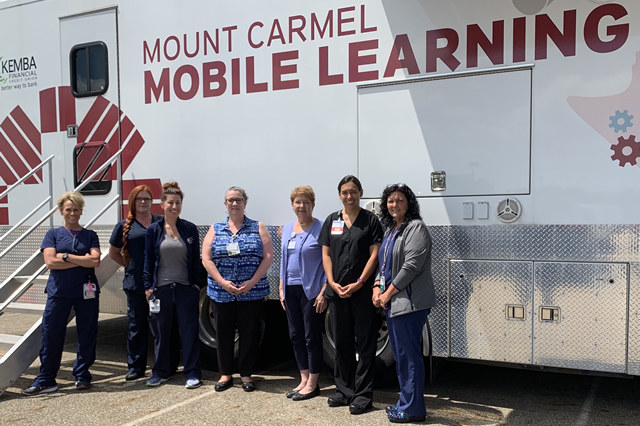 Aultman Alliance Community Hospital recently welcomed the Mount Carmel Mobile Learning Unit to provide an intensive four-day SANE (Sexual Assault Nurse Examiner) training session to registered nurses in the hospital's Emergency Department. The unit, staffed by Laura Kaiser, BSN, RN, SANE-A, and Ruth Downing, MSN, RN, CNP, SANE-A, is a bus donated by the Mount Carmel Foundation to aide in real life training around the state of Ohio. SANE is a specialized forensic training focusing on detecting and treating sexual assault in patients.
"The goal of providing such specialized training is to reduce the exam time for rape victims and to increase the nurses comfort level and knowledge," said Laura Kaiser, Mount Carmel Health.
The training is provided by a VOCA grant through the Ohio Attorney General's office. The SANE training team visits six or seven hospitals annually to provide this specific education. Karen Abraham, RN, BSN, emergency department clinical coordinator, AACH, applied to bring the bus to Alliance.
"We just feel we are a small town that faces the same crimes as larger cities, and we want our nurses in Alliance to have the best training there is," said Abraham. "When we are met with the challenge of assisting in a rape investigation, we want our nurses to be prepared."
"This four-day training provides real life experience through the use of actors," said Kaiser. "The nurses start the training working with a mannequin and progress to using real men and women portraying victims of sexual assault. Nurses who receive the SANE training are able to provide a better standard of care for all sexual assault victims."
The nurses also receive training on human trafficking, domestic violence, abuse, strangulation and other forms of sexual assault.